A not-to-be-missed event in Algeria for all water professionals
SIEE Pollutec, an annual and unique event on water in Algeria, accompanies you in your export development efforts, to help you build, increase, sustain, strengthen and speed up your business.
This exhibition is an opportunity to establish new relations at local and international levels, keep abreast of market development, legislation and to link up with the sector's professionals.
SIEE Pollutec Algeria invites you to meet the key actors of the market, from the local and territorial administration to the eco-industrialists, through the manufacturers, industrialists and research firms.
15th edition of SIEE Pollutec was held in Algiers from 11 to 14 February 2019 and welcomed more than 7000 professional visitors.
The SIEE Pollutec team is waiting for you for its 16th edition from 27 to 30 September 2021 in International Center of Conferences – CIC Algiers, decision-makers, prescribers and buyers will be waiting for you.
Figures SIEE-Pollutec 2019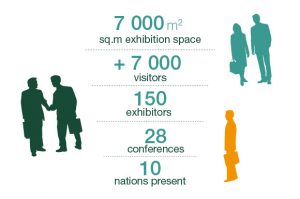 Public administrations - Local and regional authorities 46%
Water - Distribution - Furniture 24%
Consultancy - Research – Audit 15%
Industry 6%
Others 5%
Civil Engineering - Construction – Renovation 4%